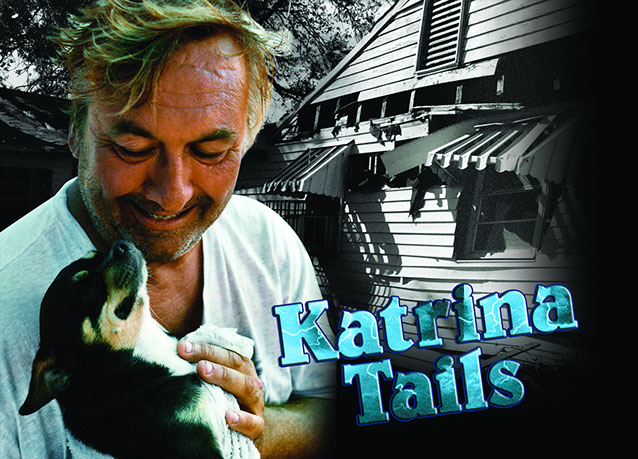 About the Film
Katrina Tails follows a disparate group of New Orleans residents in their efforts to be reunited with their pets in the aftermath of Hurricane Katrina. We view the events from both sides of the fence: the pet owners' searches and the rescue workers' efforts to save pets that have been trapped in the flooded city. This feature-length documentary provides insight into the human/animal bond, couched in a narrative to which everyone can relate: the search for a loved one.
Hurricane Katrina
On August 29, 2005, Hurricane Katrina roared across the Gulf Coast, bypassing New Oreans but causing damage to the its network of levees that ultimately resulted in a forced evacuation of the city's residents. No provision was made for companion animals to be included in the evacuation, so many people refused to leave without their pets. Some lost their lives as a result; others were forced at gunpoint to evacuate, leaving their beloved pets to a certain death; and a few even had to witness their pets being shot by National Guardsmen.
CNN coverage of dogs and cats wandering alone through polluted flood waters mobilized animal lovers around the country and as far away as Europe. Spontaneous rescue operations were organized and a cavalry of volunteers descended on the flooded city riding to the rescue of the abandoned pets. Unfortunately, many of the volunteers acted under the mis-assumption that people had deliberately abandoned their animals and CNN's coverage did nothing to disabuse viewers of this notion. As a result, the perception that the poor, black people of New Orleans didn't care enough about their pets to take them with them and, therefore, didn't really deserve to get their pets back became the prevailing opinion. Although many pets were rescued by the volunteers and subsequently shipped to shelters around the country, a relatively small number have been reunited with their families.
Sometimes paperwork was lost or poorly filled out and the trail back to the pets' owner has been lost. But in other situations, shelters have arbitrarily decided that owners were not deserving of a reunion, so have adopted out pets. There are also many instances of pets never having reached a shelter because they were stolen by well-meaning, but misinformed, rescue workers who decided the pets would be better off not going back to New Orleans. The very worst scenario was over 100 pets that were shot, allegedly by members of a local police force who had promised the owners that they would protect and care for their animals until they could return to the parish to retrieve them.
"At least a third of the hurricane survivors who lost their pets are suffering clinically-significant major depression, whereas very, very few of the people who did not lose pets seem to be suffering from much depression at all. These people are equivalent in terms of economic loss, home being destroyed, having lost their jobs, and so on, so the only difference we're looking at is whether or not they were successfully able to evacuate their pet."
—Dr. Melissa Hunt, psychologist, U. of Pennsylvania, on the results of a study she is conducting on pet bereavement.
Reviews
"Congratulations! On the only 'animal rescue' documentary that tells a factual representation of the people, the rescuers, the disparaging problems and sometimes joy of finding caretaker's animals. Fabulous job! I could watch it again and again."
ARNO (Animal Rescue New Orleans)
"This feature length film documents not just the facts, but the emotions involved. This is a must-see for animal lovers, even those who have avoided other Katrina-related productions."
New Orleans Times Picayune, 5/4/08
"Katrina Tails is a touching and arousing documentary for everyone who loves animals. It has first hand interviews with the victims and outstanding footage and graphics. It's a standout production, powerful and haunting, and deserves wide distribution."
Thomas Baker, Ph.D., Accolade Competition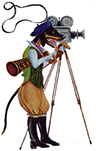 Dogs' Life Productions produces award-winning educational documentaries focusing on three main areas: art, animals, and anthropology. The company's films have been screened at festivals around the world and are used as curriculum adjuncts by many major universities in the US and Canada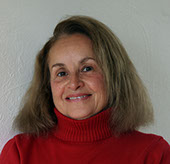 Denise Richards is a graphic designer, documentary filmmaker, artist, and educator.
Distribution:
EDUCATIONAL Katrina Tails is available for educational licensing, along with other films from Dogs' Life Productions, through Kanopy Streaming.
BROADCAST: For interest in broadcasting or showing Katrina Tails either in the US or in territories outside of the US , please contact Denise Richards, using the form on the right.
Other Films from Dogs' Life Productions